InteraCTES
5 Popular Roles For 2023
January 18, 2023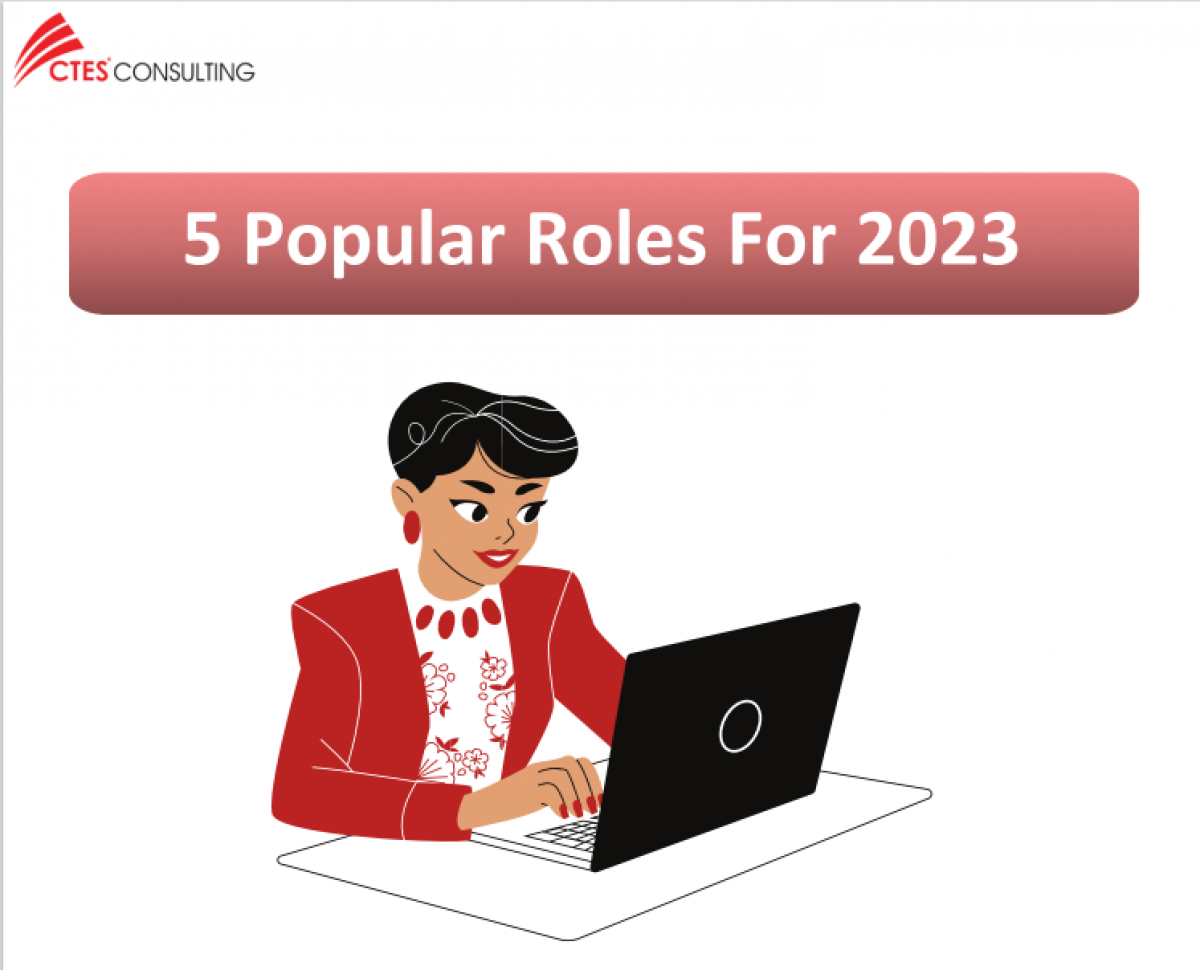 1. Digital Marketing & E-Commerce

WHAT IS IT ABOUT?
Shaping company branding through strategic marketing plans.

Using social media to produce content that speak to and attracts consumers.

Offers opportunities to create social and cultural impact through digital means.
Roles in this area are expected to rise in importance with the increasing emphasis on social responsibility and use of digital platforms.

Already among the highest rated career paths for Gen Zs entering the workforce.
2. Data Science

WHAT IS IT ABOUT?
Extracting and analysing big data, giving insight on trends and patterns.

This helps companies to develop solutions, informing strategic decision-making.

Helps companies stay ahead of the competition, evaluate approaches, solve problems and plan long-term.
WHAT'S THE BUZZ?
Data is a powerful tool that many businesses are eager to leverage on.

Highly sought after role by large organisations and is one of the highest paying fields.

Jobs in this field can be done remotely, making it highly flexible for workers.
3. Cyber Security

WHAT IS IT ABOUT?
Identifying weaknesses and vulnerabilities in an organisation's IT infrastructure and addressing them.

Configuring and maintaining the security of these organisational infrastructures in order to prevent breaches.
WHAT'S THE BUZZ?
As the demand and value of data rises, there will naturally be an increasing need for cyber security specialists to keep it safe.

Already one of the fastest-growing fields and anticipated to boom in the next few years.
4. Sustainability

WHAT IS IT ABOUT?
Roles that are involved in promoting, assessing, strategising, implementing or monitoring sustainability and green practices in organisational philosophies, practices and infrastructure.
WHAT'S THE BUZZ?
With greater climate change awareness, there has been a steady rise in conscious consumerism and sustainability-based governmental commitments across the world.

The demand for green talent and skills will continue to grow.

Among the jobseekers, more people are also prioritising jobs that can create a social impact.
5. Human Resources

WHAT IS IT ABOUT?
Sourcing, recruiting and matching suitable talent to an organisation.

Managing people-related concerns and needs within an organisation.

Provide career coaching and guidance for jobseekers.
WHAT'S THE BUZZ?
Amidst the talent shortage, HR professionals will be essential in helping organisations reattract good quality talent.

HR professionals will be imperative in building more diverse, equality-based and inclusive workplaces.
Reverse Marketing
Gig Economy Part I: What's Happening in the Gig Economy